Search Based Solutions for Translators
IDMS has over 15 years experience in designing search-based solutions for the Translation Services sector.
We provide and customize tools to help translators find relevant texts in document archives, emails, translation memories and terminology databases.
Our Document Filters for dtSearch
We developed the following plugins allowing dtSearch to index and properly display source and translated text snippets side-by-side for:
XLIFF
SDL Trados Studio SDLXLIFF
SDL Multiterm / Termbase SDLTB
SDL Translation Memory SDLTM
TMX Translation Memory eXchange
In each case the end result looks like this:
Source language in the first column
Target language(s) are in the subsequent column(s)
Hit highlighting and navigation are functional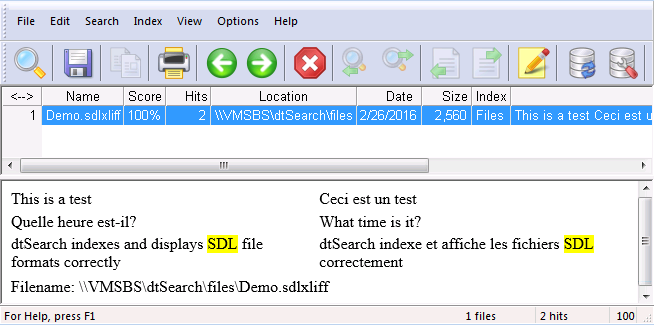 dtSearch Web tailored for translation teams
Whether your translators are working on-site or telecommuting, they get the same experience from this web-based solution. Search querie and loading results are instantaneous, as all the hard work is performed on the backend server(s). At the workstation end, only a recent browser is required.
The customizable HTML interface of dtSearch Web allows us to translate the tool in any desired language. Your search query and result list is always visible. Keyboard shortcuts help speed up querying, refining and result/hit navigation. Metadata shown on top of documents. Quickly open a document in its native application or browse to its containing folder. Show the user associated to a translation, optionally color coded by trustworthiness.
Customizable document pair detection can be configured to enable side-by-side display of a source and translated document. Furthermore, our alignment engine will show you these side-by-side documents aligned on paragraph boundaries.